6.10.2019
THE KING OF FIGHTERS Strike DEAD OR ALIVE 6
Two Stunning New Characters Join Team NINJA's Lethal Lineup of Combatants
---
Mai Shiranui, known to KING OF FIGHTERS fans as "The Alluring Ninja," is a kunoichi (female ninja) and the successor of the Shiranui style ninjutsu. The nimble fighter uses large fans as weapons, generating flames from attacks as she shows no mercy on opponents mesmerized by her flashy attire.
Joining Mai is "The Ice Doll," Kula Diamond. Diamond favors quick strikes and unexpected transitions to special attacks through the use of cancels. She has the power to utilize ice in her assaults, taking advantage of frozen opponents thanks to her ability to instantly freeze water particles in mid-air.
The new characters are being offered as part of DOA6's Season Pass 1, and will also be available for purchase individually, with separate costume packs available for each fighter. A special character and costume bundle will also be offered, complete with five outfits each for the discounted price.
DOA6's Season Pass 1 will be available for purchase including the two new fighters from SNK's THE KING OF FIGHTERS XIV as well as 62 new costumes, along with bonus costumes for NiCO(Technomancer Gear) and Nyotengu(Wrestling Costume).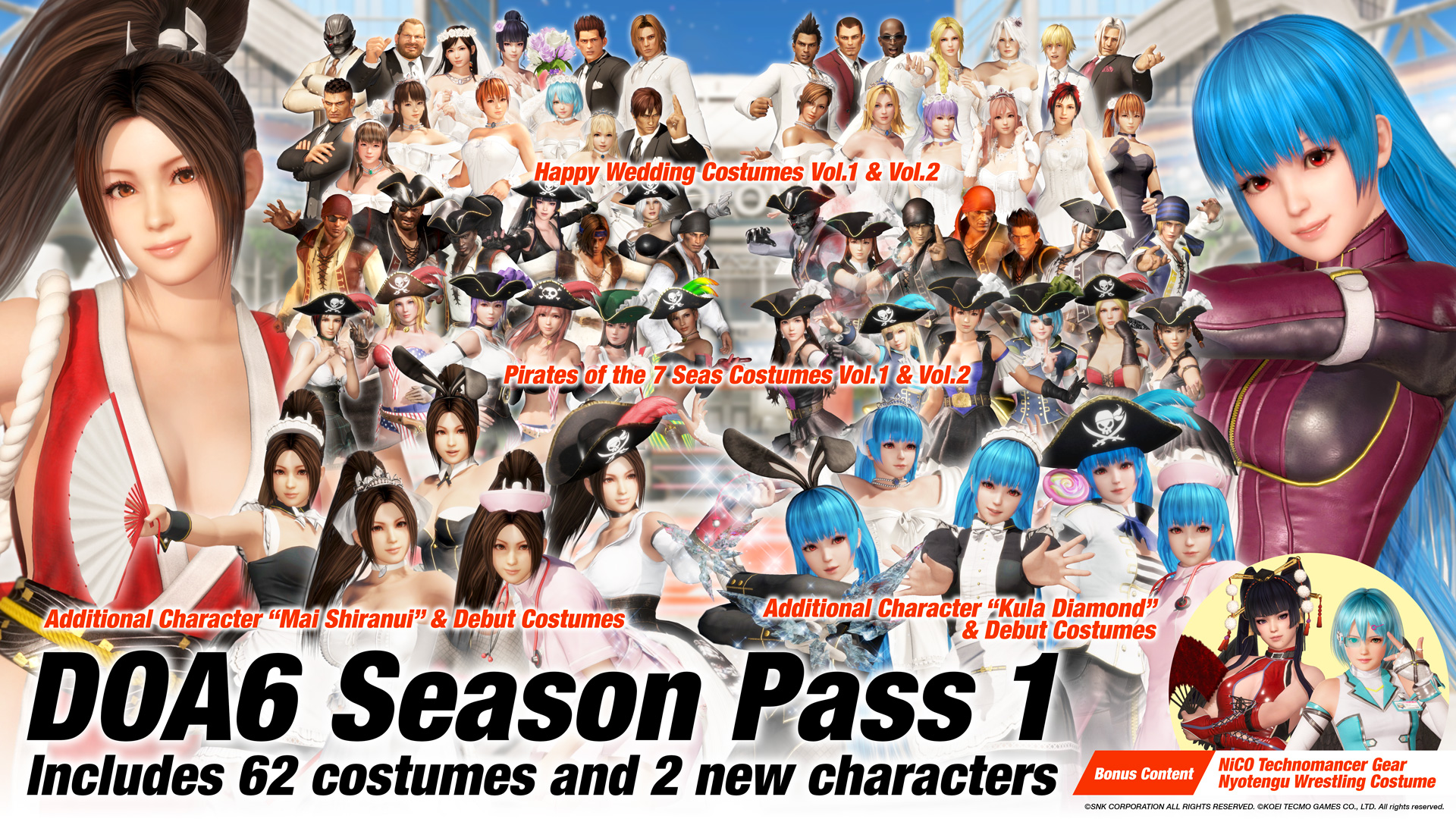 DOA6 Season Pass 1 Contents
Name
PS4™
Xbox One
Steam®
DOA6 Happy Wedding Costumes Vol.1
Unit
NA
✓
NA
set (13 costumes)
✓
✓
✓
DOA6 Happy Wedding Costumes Vol.2
Unit
NA
✓
NA
set (13 costumes)
✓
✓
✓
DOA6 Pirates of the 7 Seas Costumes Vol.1
Unit
NA
✓
NA
set (13 costumes)
✓
✓
✓
DOA6 Pirates of the 7 Seas Costumes Vol.2
Unit
NA
✓
NA
set (13 costumes)
✓
✓
✓
THE KING OF FIGHTERS XIV
Collaboration
Mai Shiranui
Character
✓
✓
✓
Debut Costume
✓
✓
✓
Debut Costume set (5 costumes)
✓
✓
✓
Character + Debut Costume
✓
✓
✓
Kula Diamond
Character
✓
✓
✓
Debut Costume
✓
✓
✓
Debut Costume set (5 costumes)
✓
✓
✓
Character + Debut Costume
✓
✓
✓
DOA6 Season Pass 1
✓
✓
✓
Bonus Content